Livestock
Bushfire-affected farmers say they will be forced to sell livestock or their animals with starve, following an 18,000-hectare blaze in the New South Wales' Central Tablelands.
Key points:
A Hill End sheep farmer says the bushfire has left them without food for their stock 
Six homes and 900 livestock were lost in the Alpha Road blaze
A state-wide shortage of fodder has raised concerns victims will be unable to feed their animals
Six homes and 900 sheep and cattle were lost in the Alpha Road fire, north of Hill End, after it began almost a fortnight ago. 
More than 75 per cent of Lance Rayner's sheep farm was burnt, leaving him with a limited amount of donated fodder.
"There is no feed for them," he said.
"I've been over there every second day trying to make sure they have got what they need. 
"It is quickly going to run out; we are looking to buy some grain and hay from wherever we can." 
Mr Rayner said they will be forced to sell off some of their 600 superfine merino sheep. 
"It's not a good time to do it because the market isn't going all that well, but there is not much else you can do."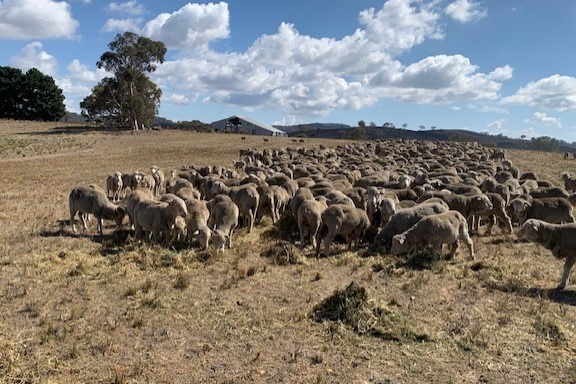 A natural disaster declaration has not been made for the region so far, with authorities waiting for damage assessments to be completed before announcing grants for victims. 
However, Mr Rayner said they needed support for accessing feed immediately. 
"It is not something that is going to be fixed in the next couple of weeks or months — it is going to take a long time," he said. 
"What we need is subsidies on transport for feed or grants to help us get through this.
"There are a lot of people with a lot of lost feed that will need help." 
The NSW Department of Primary Industries has provided farmers with veterinary assistance and emergency fodder in the aftermath of the blaze.
A helping hand 
Rhonda Taylor's sheep farm along Alpha Road was one of the worst hit during the blaze, with the extent of the damage being too great to determine yet. 
Facing the prospect of being unable to feed their livestock, Ms Taylor said farmers and community members from Bathurst came together to donate more than 1,500 kilograms of hay, so at least her animals had "something to eat".
"Everything got burnt, so that is one stress off our shoulders to have feed there," she said.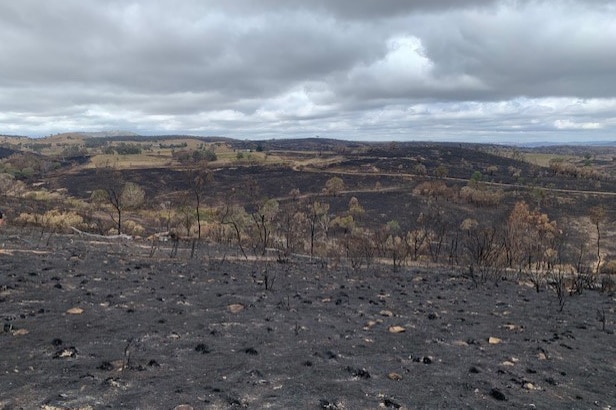 Ms Taylor said while the recovery effort for their farm was "going to take a long time", the support they had received from the community had been incredible. 
"We were in tears; we are just so thankful for the help that we got, I still get emotional about it because they didn't have to help," she said. 
Challenges ahead 
The availability of fodder for livestock has been disrupted considerably in the past three years following record flooding and the mouse plague. 
Australian Fodder Industry director Frank McRae said bushfire victims would struggle to get the quantity of feed they needed.
"There's not much hay about and the quality is probably towards the lower end of what they are looking for," he said. 
Mr McRae noted farmers would have to settle for lower-quality produce due to the cost of feed, which will reduce growth in their livestock. 
"Most of the good high-quality feed is lucerne and that is going into the dairy industry, so it will be price-prohibiting," he said. 
"Those affected will have to look at more maintenance feed, which is lower in quality and protein."